Eccotemp has unveiled a groundbreaking innovation - the world's first-ever all-in-one Smart Home Tankless Water Heater with voice commands by Alexa & Google. This revolutionary patented technology is set to redefine your expectations. It's not merely about heating water; it's about optimizing energy usage and transforming the way you are heating water. Endless hot water supply, coupled with significant energy savings and sleek design, makes this series a standout in today's market. Get ready to be amazed by the future of water heating. Let's delve deeper into what distinguishes our product, the SH22 Smart Home Tankless Water Heater series.

The technological approach behind Eccotemp's Smart Home Tankless Water Heaters seeks to revolutionize the water heating experience. The SH22 series is the first of its kind due to its uniqueness, which stands out as an innovation among tankless water heaters by prioritizing convenience, personalization, and efficiency. It achieves this by harnessing smart technology and mobile app connectivity to empower users with a level of control and convenience that sets it apart from traditional water heaters. The result is a product that not only delivers hot water but also enhances the overall quality of life for homeowners by making their daily routines more convenient and efficient by saving them money.

We use a UX (User Experience) coupled with a beautiful UI (User Interface) to create a unique experience approach with actual technology that helps guide users to save money. The last time a category like water heaters was revolutionized was decades ago. We consider ourselves the Nest of water heaters or the Ring Doorbell of water heaters. We are disrupting the industry and category by making radical changes to products never seen before. Nobody thought a little company based in Summerville, SC could make such a huge impact on the water heating category like we have.

Eccotemp Smart App & Voice Commands

Experience effortless water heater management with the Eccotemp Smart App. Customize temperatures, create schedules, and track usage details through the energy statistics screen, including real life ways to save energy and money on your utilities. Optimize energy efficiency and reduce consumption in turn saving you money with the click of your Eco Mode option in your mobile app control panel. You will also receive maintenance alerts, optimization notification tips and tricks for seasonal water changes and how to keep your tankless water heater running efficiently for years to come. The Eccotemp Smart App is accessible to users on both Android (Google Play) and IOS (App Store) devices.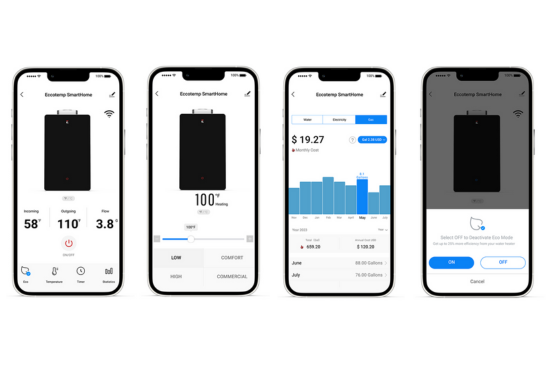 Imagine a home that understands your needs, where you can control your water heater with your voice. Our Wi-Fi-enabled tankless water heaters pair seamlessly with Amazon Alexa and Google Home, offering intuitive voice commands. Start your day with a voice command like "Alexa, turn on my tankless eco mode," or return to a tucked away vacation home with "OK Google, set the water heater to 120 degrees." It offers the experience of having your own personal assistant while delivering the convenience of a Smart Home Tankless Water Heater. The Eccotemp Smart app and voice command capabilities transforms the water heating experience, providing unprecedented convenience, efficiency, and peace of mind to users, making the SH22 series stand out as one of the most innovative and user-focused products in the market.

Versatile Performance

The Eccotemp SH22 Smart Home Tankless Water Heater series offers on-demand hot water for showers, baths, hand washing for up to three bathrooms at once, with a temperature range of 95 to 140 degrees Fahrenheit, making it ideal for 3 to 4 applications running simultaneously.

These tankless water heaters are ideal for a wide range of settings, from standard-sized single-family homes to townhomes, condos, cabins, apartments, and even light commercial use. These ultra-efficient tankless hot water heaters ensure a continuous supply of hot water precisely when you need it, providing uninterrupted hot water.

Flexible Options

You have the flexibility to select the fuel option that aligns perfectly with your preferences and needs. The Eccotemp SH22 series are offered in both liquid propane and natural gas configurations.

Natural gas is typically more affordable than electricity, making it a cost-effective choice for heating water. It also provides a quick and consistent hot water supply, suitable for larger households. You'll need access to a natural gas supply line, which may not be available in all areas. Installation costs might be slightly higher if a gas line needs to be extended to your water heater.

Propane is a versatile option, as it's often used in areas where natural gas isn't accessible. It provides an efficient and reliable source of energy for heating water. Propane tanks need regular refilling, which can incur additional costs. However, some homeowners appreciate the ability to have an independent fuel source.

SH22 Tankless Water Heaters are designed to fit every space and environment. Whether you prefer an indoor or outdoor installation, you have the flexibility to choose the setup that suits your needs.

In many regions of Canada, winter temperatures commonly fall below freezing, which can damage water heaters. One of the best recommendations is to install a freeze protection kit or device designed for water heaters to prevent freeze damage in such situations. These kits typically include a heat tape for your exposed plumbing and will automatically activate during freezing temperatures. During freezing temperatures, we always recommend dripping several faucets on the hot side to allow water to constantly flow through your plumbing to avoid damaging your tankless water heater and plumbing. Remember, freeze damage is not covered by any water heater warranty regardless of brand.

Indoor Venting

When purchasing an indoor tankless water heater one must consider the proper type of venting, which is essential for the safe and efficient operation of indoor tankless water heaters. The SH22i uses a 4-inch single wall stainless steel vent installation. This type of venting enhances safety by effectively channeling combustion gases, such as carbon monoxide, out of your living space, preventing potential health hazards. This type of venting also saves valuable indoor space, making it a practical choice for various settings. Eccotemp offers two variations for installing our SH22i, use our Horizontal or Vertical Vent Kits to ensure proper installation. Sold separately are our condensation drain pipes which must be used for areas where outdoor temperatures fluctuate during summer and winter months. When cold air is mixed with hot are produced from your tankless water heater it causes condensation which if no condensation drain pipe is installed will go back into your water heater causing rust, corrosion and even permanent damage.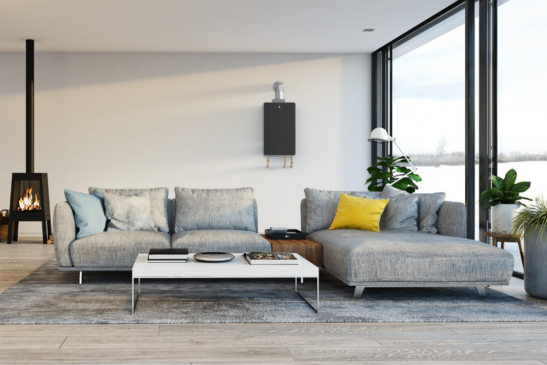 Efficiency and Quality

The SH22 series is rated at 6.8 GPM (gallons per minute) at 140,000 BTU . With its remarkable minimum 35-degree temperature rise, this ultra-efficient tankless water heater guarantees instant hot water in various scenarios, all while prioritizing energy efficiency. Although instant hot water is produced at the water heater, the hot water must travel through your plumbing to reach the source being used. If you are as impatient as we are, you should know that we make POUs (point of use) mini tank water heaters that eliminate the wait time and gap for getting hot water instantly.

Safety and Certification

SH22 Tankless Water Heaters proudly carry CSA certification, affirming their quality and safety. These tankless water heaters have successfully passed CSA testing and received approval for use in both the United States and Canada at elevations up to 2,000 feet. Installing the SH22 at higher elevations can affect the overall performance and may not be recommended. This certification reflects our unwavering dedication to delivering reliable and safe water heating solutions. Furthermore, it aligns with the Department of Energy's commitment to promoting energy-efficient technologies and ensuring that our products meet the highest quality and safety standards.

Why choose Eccotemp?

When it comes to selecting the perfect water heater for your home, Eccotemp surpasses non-known brands by a wide margin. Wondering why? It's because at Eccotemp, we take immense pride in designing and engineering the look and feel of our products in-house, all based right here in South Carolina. This means that every water heater we deliver is meticulously crafted with a keen eye for detail, quality, and innovation. But that's not all. We understand that genuine support can make a significant difference. Our dedicated customer support agents are readily available to assist you with any questions or concerns, ensuring a personalized and responsive experience. Combine this with our 20 years of experience, robust warranties, extended protection plans, and free shipping, and you're getting an unbeatable package in terms of value. And let's not forget our direct-from-manufacturer discounts, which make owning an Eccotemp water heater an even smarter choice.

Installation Requirements

Our tankless water heaters offer hassle-free installation with convenient features like easy wall mounting and compatibility with a 110/120-volt UL-listed power cord. Additionally, the ¾-inch NPT water and gas connections simplify the installation process further. Avoiding common installation mistakes, such as improper sizing, wrong vent material, and neglecting proper gas line size and water connections or electrical connections, is crucial to ensure optimal performance and safety of your water heater. Always follow the manufacturer's guidelines and consult a professional if needed to avoid these common pitfalls during installation. We also recommend installing a service valve kit for periodic descaling and damage preventative maintenance. These easily connect to our EZ-Flush System Descaling Kit.

When it comes to indoor venting for our tankless water heaters, we offer flexibility with 4-inch horizontal and vertical installation kits, which can be purchased separately. Proper venting is crucial for the safe and efficient operation of your water heater. The horizontal kit allows you to vent exhaust gases through a sidewall, ideal for spaces with limited vertical venting options. On the other hand, the vertical kit allows for venting through the roof, a suitable choice for multi-story buildings or instances where vertical venting is preferred. Choosing the appropriate vent kit ensures that combustion gases are safely expelled, contributing to the optimal performance and safety of your indoor tankless water heater.

Common mistakes in venting tankless water heaters, whether in horizontal or vertical installations, can lead to reduced efficiency and potential product damage. Condensation occurs when hot exhaust gases cool as they exit the vent, forming moisture. In horizontal installations, one common mistake is an improper vent slope, which can cause condensation to pool and drain back into your tankless water heater causing catastrophic product damage not covered by your manufacturer's warranty. This is why we always recommend the proper slope away from your tankless water heater and installing a condensation drain pipe.


Improper horizontal installation: No drain pipe, wrong venting materials (must be stainless steel), no backflow preventer
In vertical installations, overlooking proper venting installation will also lead to damage to your tankless water heater. A condensation drain pipe is always recommended for any tankless water heater installation where temperatures fluctuate. Also make sure with any installation you have a backflow preventor installed on your installation stopping cold air from blowing back into your water heater during freezing temperatures and windy days. Finally, with any tankless water heater, always have the proper sized drain pan located under your tankless water heater should it break, freeze or be damaged so that if a water leakage occurs it will not damage your home.


Improper vertical installation: No drain pipe, no backflow preventer, no downward slope to avoid condensation returning to the water heater.
Tips and Tricks

Take advantage of the smart controls via the Eccotemp Smart app and make full use of them. These controls enable you to adjust temperature settings, monitor energy usage, and schedule heating times, allowing for convenience and energy savings. Following the manufacturer's maintenance guidelines is also a big help. Flushing your tankless water heater periodically will prevent mineral buildup and should be done at least once per year. This could be less frequent or more often depending on your water source. If you have well water, we recommend descaling your tankless water heater at least two times per year. Our EZ-Flush System Descaler Kit is a perfect tool that is specifically made to dissolve the toughest build-up. Regular maintenance helps extend your tankless water heaters lifespan and maintain its efficiency.

Temperature Optimization - Optimize temperature settings for your tankless water heater by choosing your preferred temperature while avoiding extremely high settings to prevent scalding and conserve energy. During the summer, consider using the Eco Mode setting to reduce gas consumption and enhance efficiency. In our mobile app, you may also choose one of our pre-programmed suggestions for temperature based on your use.

As mentioned earlier, one of the best tricks that will make life easier is integrating your tankless water heater with Amazon Alexa or Google Home for voice-activated commands. Simply say, "Alexa, set my water heater to 110 degrees" or "Hey Google, turn off my water heater," for hands-free control and added convenience.

Warranty and Quality Assurance

Here at Eccotemp, we go beyond offering innovative water heating solutions; we stand behind them with a robust warranty that mirrors our trust in the quality and durability of our products. You can check the warranty program on our website.Our comprehensive manufacturer's warranty for the SH22 series tankless water heater covers you for 10 years on the heat exchanger and 5 years on parts. Additionally, our live chat, product support appointments, and self-help guides offer peace of mind, ensuring that the Eccotemp SH22 Series will keep you supplied with hot water for many years to come. We always recommend that you book your Free Post Purchase Installation Consultation to ensure proper installation, tips, tricks and to answer all your questions prior to use.

Improper installation may not be covered but rest assured that we stand by our products by providing support even if it's out of warranty or has incidental damage. Your satisfaction is our priority, and we are here to assist you, regardless of the warranty status or the extent of damage to the product.

Free Post Purchase Consultation

Our dedication to excellence extends well beyond our products, encompassing unmatched customer support that guarantees a seamless experience from beginning to end. We highly recommend having this appointment prior to installation, as it can provide critical insights and personalized guidance to meet your specific needs. This is particularly beneficial for DIY enthusiasts considering self-installation. Nevertheless, we always encourage professional assistance to guarantee correct installation.

For all your installation, maintenance, or support needs, setting up an appointment with Eccotemp is a seamless process. You can easily schedule your appointment by visiting our website or by giving us a call at our dedicated support line to select a suitable time and date. We highly value your time, and we are committed to delivering swift and effective service that aligns with your schedule.

Live Chat is available during our working hours, our live chat feature connects you with experienced agents who can provide immediate assistance for any queries. You can also contact us at 1-866-356-1992 during our working hours, and our friendly customer support team will be delighted to assist you. You can also check Self-Help Guides for an extensive collection of self-help guides and tutorials accessible 24/7 on our website, providing step-by-step instructions and solutions to frequently asked questions.

Conclusion

Eccotemp's Smart Home Tankless Water Heaters represent a fusion of meticulous design, cutting-edge technology, and practical functionality tailored to the requirements of modern living. Whether it's the versatility of fuel choices, suitability for residential and commercial use, or an unwavering dedication to efficiency and safety, the SH22 series stands as an emblem of innovation and reliability as the world's pioneer in all-in-one Smart Home Tankless Water Heaters with voice command capabilities. Immerse yourself in the future of water heating with Eccotemp, where each feature propels you toward into a lifestyle that's not only more comfortable but also sustainable and immensely satisfying