Top Accessories For Your Tankless Hot Water Heater
We offer several accessories for your tankless hot water heater, that can extend the life of your water heater and make servicing/general maintenance a breeze. Here, we will take a look at three products that we recommend:
First, we recommend to regularly back-flush your water heater, at least 1-3 times a year, depending on your water source, in order to rid the internal pipes of any buildup or debris. Our Eccotemp System Descaler Kit has been designed to work with Tankless Water Heaters that provide 3/4" hot and cold service connections. This kit has been NSF approved, and includes one 3.5 gallon bucket, one 500 GPH pump, one quart of Flow-Aide cleaning solution, and two 5 foot rubber hoses-one that connects to the pump and to the cold service valve, and another to connect to the hot service valve and into the cleaning solution when you are ready to descale your water heater.
In order to make servicing your heater an easy task, rather than a hassle, we also offer our Eccotemp 3/4" Service Valve Kit, that can be used to easily service or back flush your tankless water heater. Our service valve kit includes a set of 2 heavy duty forged brass ball valves, full port main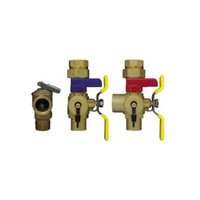 flow channel, large drain port outlets, color-coded hot and cold aluminum handles for easy identification, and a uniquely designed lever/wing handle. With our Eccotemp 3/4" Service Valve Kit, you will never have to remove your plumbing from your water heater to back flush, service, or perform diagnostic testing ever again!
Our 3/4" Temperature and Pressure Relief Valve is also ideal for any domestic water heater application. Pressure relief valves are designed to provide protection from over-pressure in steam, gas, air and liquid lines. These valves are completely automatic and reseat after either temperature or pressure relief. The valve incorporates an innovative "white coat" thermal element coating, an inert covering that provides effective isolation from mineral deposits (liming) and galvanic corrosion, offering many years of dependable safety protection
.