If you're looking for some of the best places to go camping or glamping in Canada, we've got you covered. While Canadian winters are primarily long and cold, it's never too early to start planning your next adventure!
Canada is known for its unique camping sites that are perfect for those who love to be in the wilderness. Glamping is the way to go for others who prefer a more relaxed experience. So, what are some of the best camping and glamping places in Canada?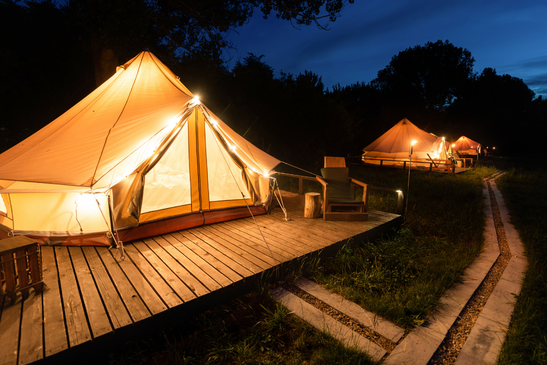 Here Are Our Top 10 Camping and Glamping Sites Across Canada:
Turkey Point, Ontario
Rates start at $149.95 CDN
Whether you're a family, a big group of friends, or a couple, Long-Point Eco Adventures in Turkey Point, Ontario, has something for everyone. There are plenty of activities to do while out at the resort, from zip-lining to kayak tours and axe-throwing, so you'll have your fair share of fun. Regarding the cabins, there are a couple of options to choose from: a 150-year-old farmhouse, pod cabins, or large cabins that can fit up to 11 people! And, of course, there's an on-site restaurant for those opting to eat out.
2. Glamp Camp
Waterborough, New Brunswick
Rates start at $179 CDN
Glamp Camp is located near Grand Lake in Waterborough, New Brunswick, and has gorgeous panoramic views of the lake. The glamping site has 10 unique stargazer domes located on its 90-acre site, and each dome has its own unique theme, like "hashtag millennial," "I'm so fancy," and James Bond-themed "007." Guests can also request their own private wood-fired hot tub at an extra charge.
Mount Tryon, Prince Edward Island
Rates start at $210 CDN
Another unique glamping site is Treetop Haven, which has five elevated glamping domes over Canada's longest bridge. Located in Mount Tryon, Prince Edward Island, these glamping domes are present in a fifty-acre forest. Each one of the domes comes with its own deck and hot tub, as well as a fully equipped kitchen, which is a huge plus for those looking to prep their own meals.
Chemin Maple - Sutton, Québec
Rates start at $55 CDN
A more affordable glamping option, Huttopia Sutton is located in the heart of a beautiful forest crossed by a creek at the foot of Mount Sutton, Quebec. This glamping site is located just 90 minutes from Montreal and a few miles from Vermont, with chalets that have different styles of ready-to-camp tents located deep in the woods in the Eastern Townships forests, giving you those beautiful sceneries to take in during your stay.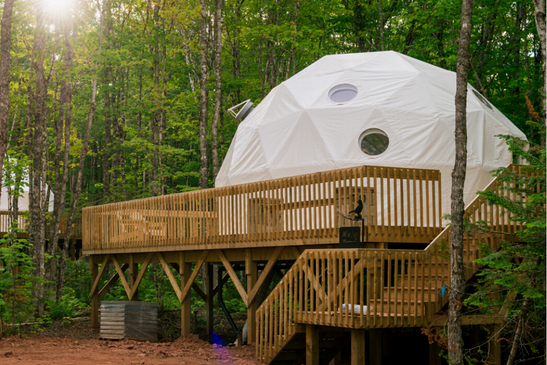 Boston Bar, British Columbia
Rates start at $519.00 CDN
REO Rafting Resort offers a one-of-a-kind luxury getaway to those looking for a unique glamping experience. There are 25 glamping tents located on the site, which all overlook the rapids of the jade-green Nahatlatch River. In addition, guests have access to nightly campfires, the site's private beach, nature trails, beach volleyball, hot tub, and more.
Sunshine Coast, British Columbia
Rates start at $200 CDN
Located on the coast of British Columbia, a 2-hour drive from Vancouver, guests at Ruby Lake Resort will surely enjoy beautiful views from the comfort of their room. Surrounded by Caren Range mountains and a peaceful Ruby Lake, the resort is located on 80 acres of nature reserve with breathtaking sights and warm lakes.
Parry Sound, Ontario
Rates start at $175 CDN
Located on the Seguin River in Parry Sound in Northern Ontario, Harmony Outdoor Inn is a waterfront bed and breakfast that offers guests a range of activities that help them connect with nature, from sunrise yoga to hiking, paddling, and biking. There are also shaded hammocks by the water for those who want their zen! The accommodations include rustic-chic tents in the woodland with hypo-allergenic pillows and cedar-lined outdoor showers.
Mont-Tremblant, Québec
Rates start at $1,100 for three nights (minimum stay)
Bel Air Tremblant, located in Mont-Tremblant, Québec, offers guests deluxe geodesic domes built with romance in mind and architecturally stunning pods with floor-to-ceiling windows. This is a high-end mountain resort in Québec that has a range of memorable places for guests to enjoy some glamping in comfort. Most of the accommodation options have king-size beds with both privacy and views, hot tubs, and more, with activities ranging from a winter zipline course to relaxation at the onsite spa. Sounds like a blast!
Sundridge, Ontario
Rates start at $295 CDN
Northridge Inn & Resort has glamping tent suites by the beautiful Lake Bernard. Each suite comes with a private porch and large, luxurious suite space—all the benefits of camping without the horrible sleep and small tent!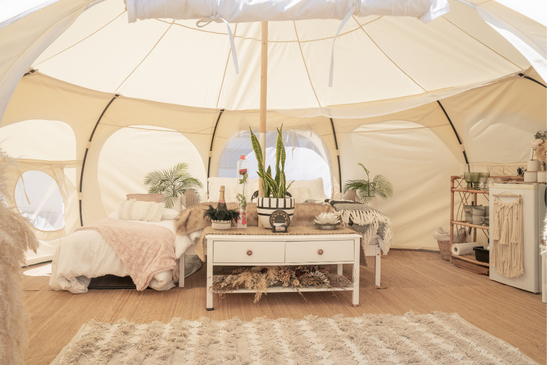 10. Imago Village
Saint-David-de-Falardeau, Québec
Rates start at $150 CDN
Located in Saint-David-de-Falardeau, Québec, Imago Village provides luxury tents to guests looking for that unique glamping experience. Some units are air-conditioned and have a patio and/or a balcony, as well as a seating area. Hiking and skiing are also possible in the resort, which is a great option for those who love to keep moving while glamping!