For generations, men have created a sacred space for themselves away from the hustle and bustle of children, in-laws, and wives. Whether you're looking to prep the basement, trailer, or backyard shed it's easy to enjoy hot, flowing water in your man cave. All you need is a tankless gas water heater to get the job done.
Need to wash up? Clean dishes? Shower before the wife comes home? Clean up? Gas water heaters are the perfect way to add a finishing touch on your man cave.
What Are Gas Water Heaters?
Tankless gas water heaters are the newest way to heat water for baths, showers, sinks, and dishwashers with ease. These lightweight, compact, and often portable gas water heaters never run out of hot water. Rather than store hot water in a tank, like traditional gas water heaters, tankless gas water heaters heat water on demand. Ground water is heated instantaneously as it flows through the gas water heater unit.
There are two types of tankless gas water heaters:
Portable Gas Water Heaters

: These types usually have a hot water limit, are outdoor only, and built-in showerhead for a complete hot water system.

Permanent Gas Water Heaters

: These units can be installed indoors and provide an infinite amount of hot water. If you are new to home plumbing it is best to contact a certified construction or plumbing technician to come out to size it and ensure that the unit is appropriate for your system settings (i.e. gas and water flow rates).
And two subtypes of gas water heaters:
Propane or LP Gas Water Heaters: These units use a portable and convenient standard 20-pound LP tank; however they do require greater caution when operating and installing. Liquid propane gas water heaters are capable of delivering bursts of 1 to several gallons of hot water or up to 30 minutes of continuous use.
Natural Gas Water Heaters : Install by connecting to your home natural gas pipeline. Make sure to check the model's gas flow rate to your home system's flow rate. Enjoy unlimited, on-demand hot water in your man cave!
Gas Water Heaters and Insulation Blankets
Do you need an insulation blanket? The purpose of these devices is to reduce standby heat loss. Obviously, since you have no storage tank you therefore have no need for an insulation blanket. They aren't necessary for tankless gas water heaters so don't waste your money.
Plus, installing an insulation blanket "just in case" is not a good idea. Many gas water heater manufacturer's warranties do not cover any damage caused by use or attachment of these energy saving devices. You'd be risking a big monetary loss for no reason - forget about them.
Where to Install Gas Water Heaters
Tankless gas water heaters should always be installed with caution and respect. The device may look innocent and friendly, but it is still a serious hazard if not properly installed. A gas water heater can be installed in a wide variety of man caves, such as garages, converted garden sheds, basements, mobile homes, and trailers. Just about any man cave location can benefit from a tankless gas water heater so let's go over some tips for selecting the perfect location for yours:
Space of easy access and operation
Must be a reinforced wall for structural integrity
Area where you can utilize wall studs for mounting
If dry wall use dry wall anchors
If concrete wall use lag bolts
Atmost5 feet from a power supply
Your old tank water heater's location (the fastest, easiest solution if available)
Most importantly, let's go over wherenotto install a gas fired water heater:
Never in a space near flammable liquids (that give off flammable vapors) are stored.
Paint or adhesives, thinners, removers, or solvents.
LP gas tanks (butane and propane).
Household cleaners, pet supplies, or alcohol
Never at a space which is a hazard for physical damage.
Moving vehicles or persons
Area flooding
Garage door
Never on or near combustible construction.
Dusty or old central AC/Heat ducts
Exposed wood walls and floors
Heavy timber
Installing Portable Gas Water Heaters
Before beginning any DIY project, please ensure that you are experienced in home renovation. If not, contact a local certified technician to ensure safe installation.
Note that installing a portable gas water heater is always going to require you to install the unit outside of your man cave. First, check your gas water heater's box for any visible signs of damage in the delivery process. If you find anything, take it back. Return it. There's no point to risk a fire hazard or setting up a lame product.
If all looks good, pull out the instruction manual. Check for all parts.

Normally these include the following: (a) a water heater, (b) LP gas regulator and hose, (c) rain cap, (d) NPT garden hose adapter, (e) vent shield, (f) nozzle/hose set (where applicable) and (g) a standard hardware pack.

Ensure your hose water line is turned off.
Read the included owner's manual and instruction guide thoroughly. Do not attempt to install gas water heaters without manuals. Each model and make is different and, thus, requires the official instructions to guide you through.
Depending on your specific tankless gas water heater, next up will be installing your vent shield. Use the hardware to screw into place. An electric Phillips head screwdriver is recommended.
Install your rain cap to the top of the flue vent. You will probably want to add a beaded layer of high temperature sealant around the perimeter.
Portable gas water heaters utilize garden hoses. Check your water supply and flow rate to ensure optimal results.
Attach the NPT adapter to your garden hose. Use Teflon tape or other approved sealing method for a water tight fit.
Attach water input (aka. the garden hose) to unit.
Install gas supply line and regulator to the unit.
Ensure you DO NOT over tighten the gas supply line. You could crack the regulator, cause a gas leak, and watch your man cave go up in flames! Be careful.
Check for a gas leak. Sniff the air. Do you smell gas? One thing about LP gas is that a special odorant is added to aid in its detection. If you're not sure, run a "soap" test. Mix a simple soapy water solution. Apply that to all gas fittings and connections. Check. Do you see any bubbles forming? If so, the bubbling indicates a leak. Fix it! Also, it's recommended you purchase a gas detector from a local hardware store BEFORE installing.
Attach your shower nozzle and hose set (if applicable).
Install batteries (usually "D" cell batteries).
Install screw and suspend unit at a comfortable distance above ground.
Attach gas regulator hose to LP tank. Make sure you leave your propane tank valve in the "off" position please.
Follow operating instructions and enjoy!
Installing Permanent Gas Water Heaters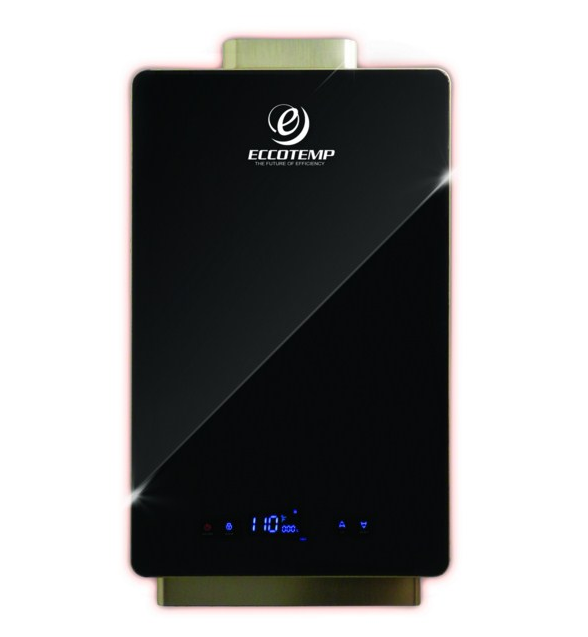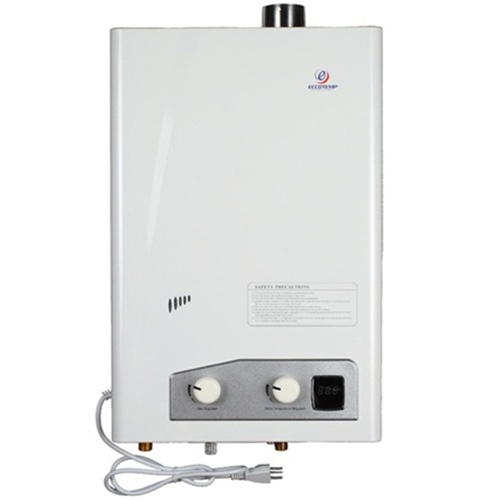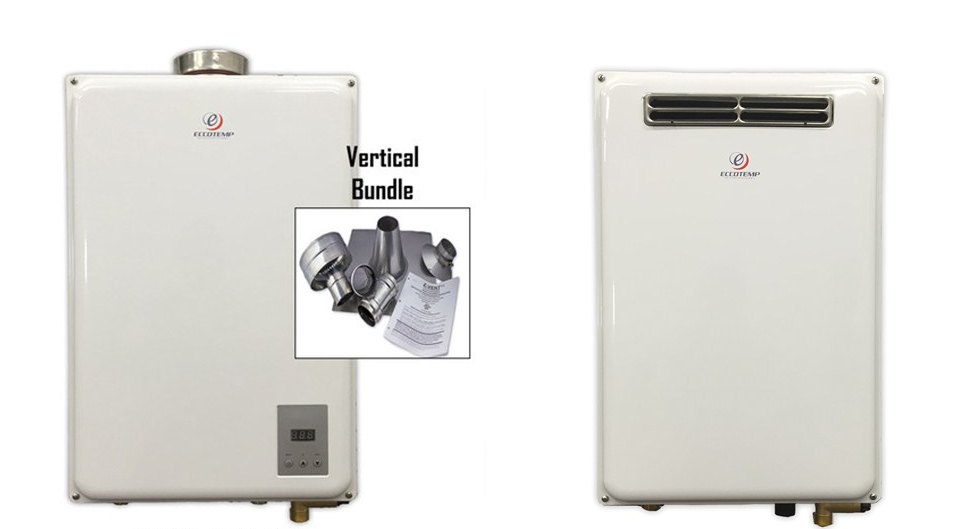 Reread instructions "1-2" above.
Check to make sure you have proper gas supply lines, a special stainless steel flue (Category II, II, or IV) or a large diameter exhaust system.
Ensure that your hot and cold pipes are properly insulated for additional freeze protection.
Have special union connector sets for the water supply. You want a bypass capability for future de-liming maintenance.
Turn off your main incoming water supply. If using old tank water heater space, disconnect supply from old unit. Place a large bucket beneath the water bib to catch spills (most likely, there will be old water left in the line).
Disconnect heat source from old unit (if applicable). Ensure gas valve is securely closed. Check for gas leaks using techniques from instruction "12" above.
Then call a professional plumber if you aren't one. This is a complicated project for non-professional do-it-yourselfers and shouldn't be attempted by amateurs. Sorry guys, but the man cave might need certified help.
The plumber will mount the tankless gas water heater, hook up all connections, and have it ready for Sunday morning college football!
Safely Setting Water Temperature
Setting your tankless gas water heater's temperature for energy conservation is one thing, but setting it for safety is an entirely different factor. You should never set your gas water heater above 125° F. Anything higher can and will cause severe burns, not just on you, but on any unsuspecting children or elderly persons who accidentally wander into your sacred space.
If you don't believe it and think the hotter the better, think again by reviewing this chart.
| | |
| --- | --- |
| Water Temperature | Time to Produce a Serious Burn: 2nd & 3rd Degree |
| 120 °F | More than 5 Minutes |
| 125 °F | 1.5 to 2 minutes |
| 130 °F | About 30 seconds |
| 135 °F | About 10 seconds |
| 140 °F | Less than 5 seconds |
| 145 °F | Less than 3 seconds |
| 150 °F | About 1.5 seconds |
As you can see, it's better to set your water temperature at a little below 120°F just to be the safe side. Most gas water heaters will have an integrated digital thermostat for accurate, easy temperature setting. Manufacturer's settings should be pre-programmed for between 100° F to 120° F, but higher temperature can be achieved for the stubborn man-caver through a dip switch adjustment.
Many tankless gas water heaters are even remote controlled for added convenience. Even so, it is always a good idea to do a manual check first. Either grab a thermometer and test the temperature of flowing water or place your hand near the fall to feel for heat.
Well, that's just about everything there is. With your new gas water heater installed, your cold cave transforms into a fully inhabitable sanctuary. You will no longer have to worry about cooking, cleaning, and sanitary needs in your man cave. Realize your full potential. Live life freely. Enjoy a hot shower!