Some people embrace modern-day technology. Others dream of a simpler life -- much simpler. If you're in the latter group, you've probably wondered how to live off the grid, so to speak.
But just how do you do that? And what exactly is the "grid," anyway?
Originally, the grid referred to the United States' electrical system. An estimated 200,000 Americans have unplugged from this power network, opting for more self-sufficient and eco-friendly alternatives such as solar and wind.
Today, the term "living off the grid" also refers to shunning gas and sewer lines (at least as much as possible), cutting off your cell service, and generally getting away from dependence on technology and outside resources. Sometimes far away. Off-gridders aim, essentially, to reduce their carbon footprint and all in all, lead a simpler, more self-sufficient life.
It's tough, but, if you're committed, it's fully doable. If you want to learn how to live off the grid, read on. (Then get off the internet already -- that's the first step).
Move to a rural area…
If you're going to live off the land, you'll want it to be a land of plenty, right? For that reason, off-gridders usually build homes in rural areas with abundant natural resources. Locations with energy sources like wind or solar and water reserves, like rivers, lakes, and wells, are ideal. (You can search for waterfront property on realtor.com.)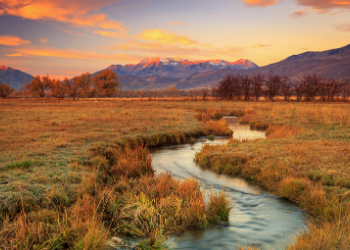 … or become a modern-day nomad
Others live off the grid while on the move. Steve Santagati, author of the best-selling "The Manual," said farewell to the grid last year by swapping his home in Los Angeles for a 72-square-foot van that he converted into a fully functional home. "The idea is to have the comforts of a normal home but be completely self-contained, relying only on Mother Nature and your wits," says Santagati.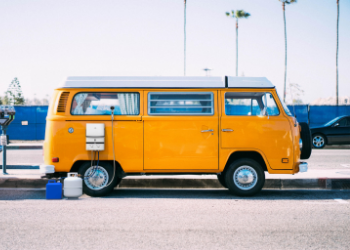 Downsize your shelter
Most off-the-grid homes are custom-built for maximum efficiency -- that means no wasted space to heat or cool. ( Tiny homes are perfect for this.)
"Spend a lot of time researching and planning a cozy space that suits your lifestyle," says Santagati. He recommends designing something that's simple and ergonomic, with space that flows. Keep it clean and clutter-free. "Remember, you won't have a huge house, so you will make compromises. But the rewards and freedom are worth it."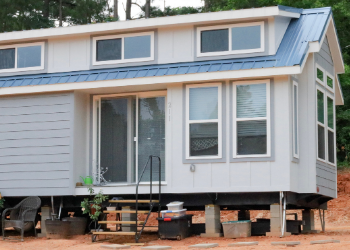 Generate your own electricity
You may be off the grid, but you can still generate electricity. Enter sustainable resources like a wind turbine (prices range from about $500 to $2,500) or solar panels -- Santagati used Renogy Solar 100 watt monocrystalline solar panels, as well as a Goal Zero Yeti solar generator ("It retails for around $1,300"). Since you no longer have traditional outlets, a generator provides a place to plug in electronics.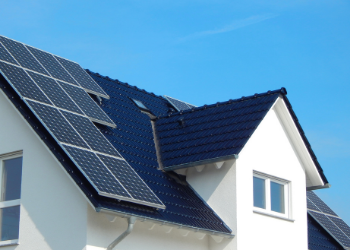 Grow your own food
Many living off the grid grow their own food in gardens. Meanwhile, cooking is best done "with a one-burner propane stove top," Santagati says. Outdoor fire pits and a BBQ work, too.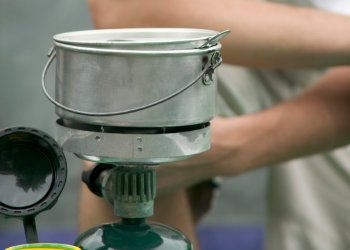 Figure out refrigeration
Most of us can live without microwave popcorn (at least for a while), but all of us need to keep food from spoiling. Santagati bought a Whynter portable fridge that consumes very little electricity (79 watts when running). "Your refrigerator, water pump, and TV monitor will burn the most juice, so choose wisely," says Santagati.
Find a water source
You can still have a shower, sink, and toilet off the grid, but the amount of water you'll use will radically decrease.
"One 15- or 20-gallon storage tank is more than enough," says Santagati. "Where you get water" -- whether in a well, cistern, river, etc. -- "will depend on your situation."
You'll also need to figure out a way to deal with what everyone else flushes down the toilet. If you don't have a bathroom -- composting toilets that use zero water are an option -- there's no need for a waste-holding tank. Set up your shower outside your home to save precious indoor space. "Use a propane tank for your hot water on-demand Eccotemp heater," says Santagati. "I got the latter for $125, and it came with a pump." Also keep in mind: No washing machine means you need to choose your wardrobe carefully for function and durability.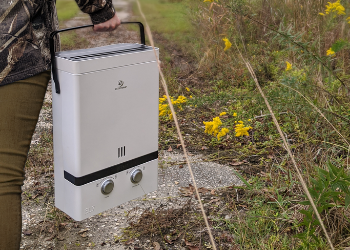 If this primer leaves you feeling intrigued (as opposed to grossed out, stressed out, and clutching your iPad for dear life), then who knows? Maybe living off the grid is for you. Or, at the very least, consider curbing your energy consumption (added bonus: You'll save money on home maintenance).
This post was originally published by Fox News