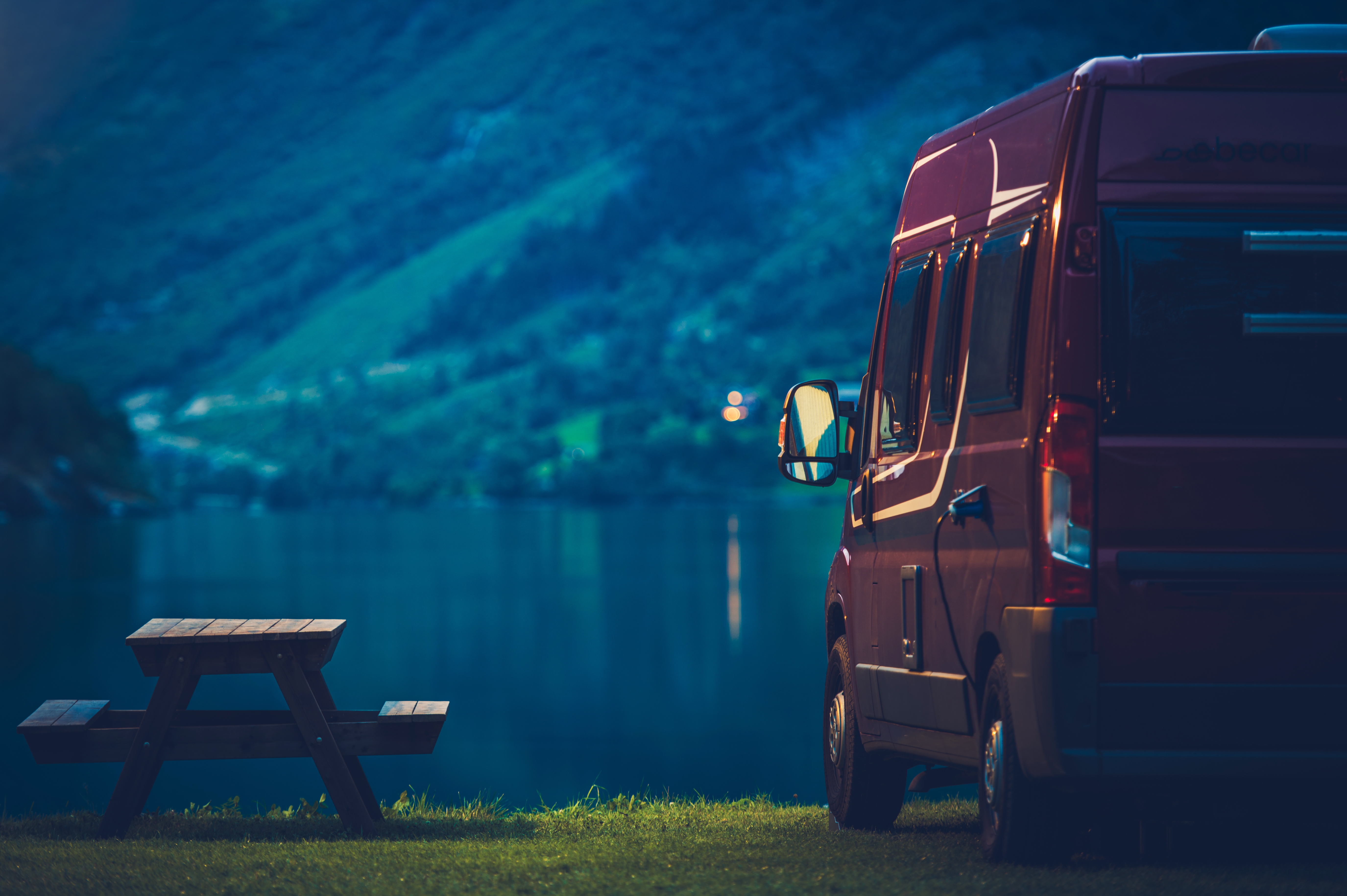 Security
Whether you're living in your van full time or not, it's a good idea to protect it just like a traditional home. If you're living on the road full time, however, it's even more crucial. Van Life requires you to live with less, so if you keep everything you own in your van, make sure your items are sufficiently secured.
The good news is that if a burglar doesn't have the key to your van, it'll be harder to steal the whole vehicle. The most valuable items should be stored in a way that makes them extremely hard to take. One option is to install a secure safe box. This box should be stored completely out of site. It's wise to affix the box to the van by attaching it to the vehicle chassis.
Another way to secure your home on wheels is to install security lights and cameras. For lights, LED is a great option for more energy efficiency. While daylight robberies do occur, many criminals prefer to steal when they are less likely to be seen. Motion lights can be a solid deterrent. You can't go wrong with security cameras either. Make sure the lights and cameras are of good quality and feasible. You may need to have reliable internet in your van to use a security camera, for example.
Remember when we talked about the potential for your van to be completely stolen? Although it would be harder for a thief without a key to do, it's not impossible. It might be a good idea to have a wheel lock. Thieves are looking for easy grabs, so if your van has a wheel lock or clamp, they might reconsider. Wheel clamps work by immobilizing the vehicle with a physical obstruction that stops the wheel from rotating. Imagine someone trying to steal a wheel-locked van with motion sensors beaming and an alarm glaring (if you have one). The bad guy or girl might just sprint away into the moonlight.
In the event all else fails and your van is stolen, be prepared by having a GPS tracker installed. This will make it easier for the police to recover your vehicle and will give you more peace of mind. Above all, protect yourself and those you hold dear. Steer clear of sketchy areas and do your best to avoid trouble.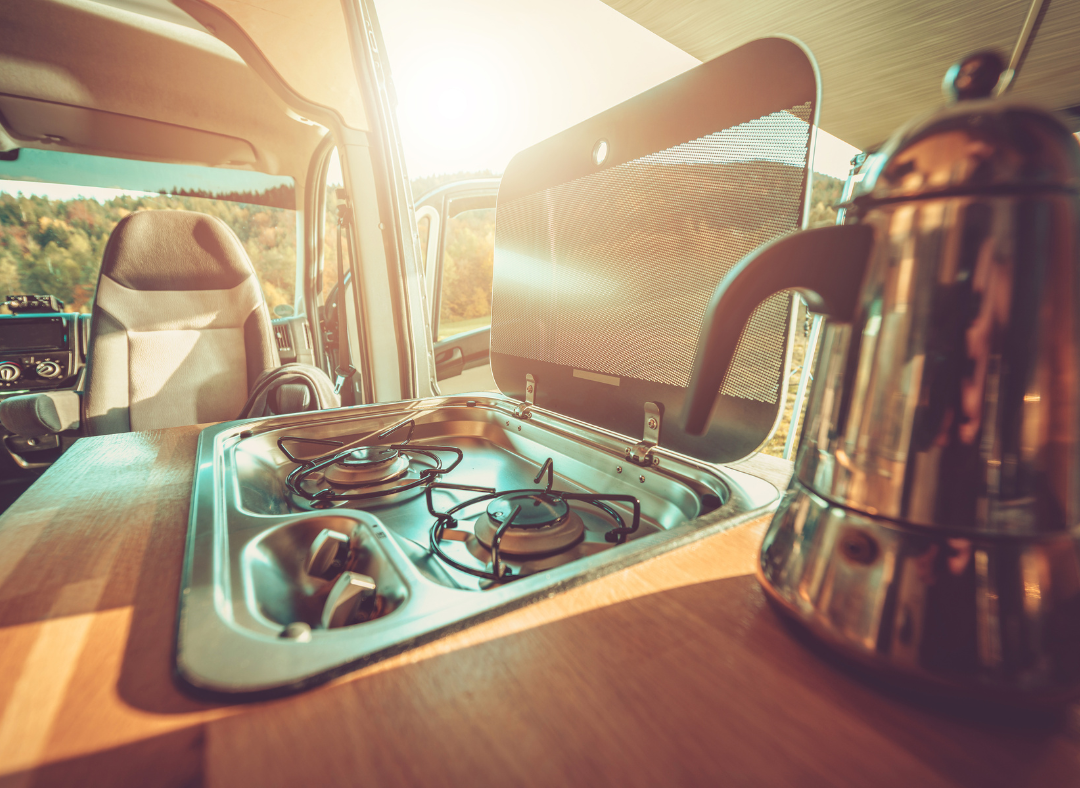 Plan Your Layout
With a standard-sized van there's not a ton of space to work with, but with some creativity and several YouTube searches, you can have a suitable layout that will make van life comfortable. Having a multi-purpose design can give you the functionality you need. A workspace that's also the dining area is a basic multi-purpose design, along with a platform bed with storage underneath. For larger vans, you can get more creative with your bathroom by placing a toilet underneath a cushioned dining chair or bench. If that doesn't sound too appealing, you could also add a composting toilet to your shower.
For more organization, you could use your kitchen space as a divider by making a folding counter that separates the kitchen from your bedroom area. There are a variety of ways to create a kitchen. If you're on the road part time, consider using a portable kitchen that you can set up outdoors. Just be mindful of the climate(s) you'll be traveling to. A pull-out fridge is a go-to for many vanlifers because it saves much needed floor space.
To make your bedroom space more versatile, consider making your couch and bed a convertible combo. This way, you won't have to lie down or sit at your workspace all the time. There are even ways to convert a dinette into a bed so that you have more space to both eat and sleep- win-win!
Have Pressurized Water Anywhere
Being on the road or off-grid means not having access to certain amenities. Water plays a significant role in every lifestyle so it's important to be able to use it effectively. Portable Water Heaters are a great addition to camper vans, bus conversions, etc., because they are very compact and well…portable. They are perfect for traveling because you can adjust the temperature to suit your location or the season. Keep in mind that portable water heaters should never be installed permanently or installed inside, but they can easily be moved to wherever they are needed.
While portable showers and hot water on the go are a must-have for all wandering souls, low water pressure situations can happen. Stay prepared with an EccoFlo Pump and Strainer, which provides pressurized water anywhere you need it. Whether you need to pull water from a creek to your portable water heater or need to transfer liquids from one area to another, the EccoFlo is a reliable tool for traveling. The pump comes with everything you need and has a self-priming feature that allows the pump to safely run dry without any damage.

Check out the video below to see how Van Life Sagas incorporates the Luxe Portable Water Heater into their Van Life journey.
Take Minimalism to the Next Level
If Van Life were easy, you'd probably see less houses and more parked vans on land. If you're taking the road less traveled, (pun definitely intended) then you won't have much room for possessions. This doesn't have to be a bad thing though. With consumerism increasing by the second, it's refreshing to remember that there are a lot of things we simply don't need. If you're brand new to the minimalist lifestyle, it may take some time to evaluate what you actually need in life- especially if you'll be living on the road full time. Think about what you're willing to sacrifice and ways you can test this new lifestyle out without going all in.
If you've gone through all of your belongings and are struggling to let everything go, you may want to rent a storage unit. It's an extra expense but may be worth it if you've found yourself in a procrastination rut or if you're uncomfortable bringing certain items on the road. If you don't want to rent a unit and only have a few extra boxes, you could ask a family member to store them in their garage or storage house.
You've probably seen mini versions of appliances and other products or even used some. Well, these small items are golden because space will now be your best friend. Clutter in a small space is a recipe for disaster. Make a list of all appliances and gadgets you need and see if you can find mini versions of them. If not, alternatives are never too far away. Don't forget multi-purpose items always work, as mentioned earlier.

Manage and Reduce Waste
This goes along with minimalism on a more frequent level. It's not just about what you decide to keep in your van, but you have to be mindful of everything you do and consume in the van. Use as many reusable items as you can and have a schedule for activities that require more consumption. For trips to the grocery store, buy products that have practical packaging. For example, if your groceries come in a box, you could later use that box for a campsite fire. You could also discard of packaging before you leave the store and place certain items in designated reusable containers.
For trash days, there are many public disposal options, but this is where having little trash comes in handy since most store trash cans are small. Just be sure not to dump your trash in just any ol' dumpster. A good rule of thumb is if the trash can is out in an open public place where everyone can easily access or use it, you're safe. For dumpsters, you'll need to be more careful as people have to pay for those. If you're not sure, ask a representative at the business. You'd be surprised to find that some gracious people still exist.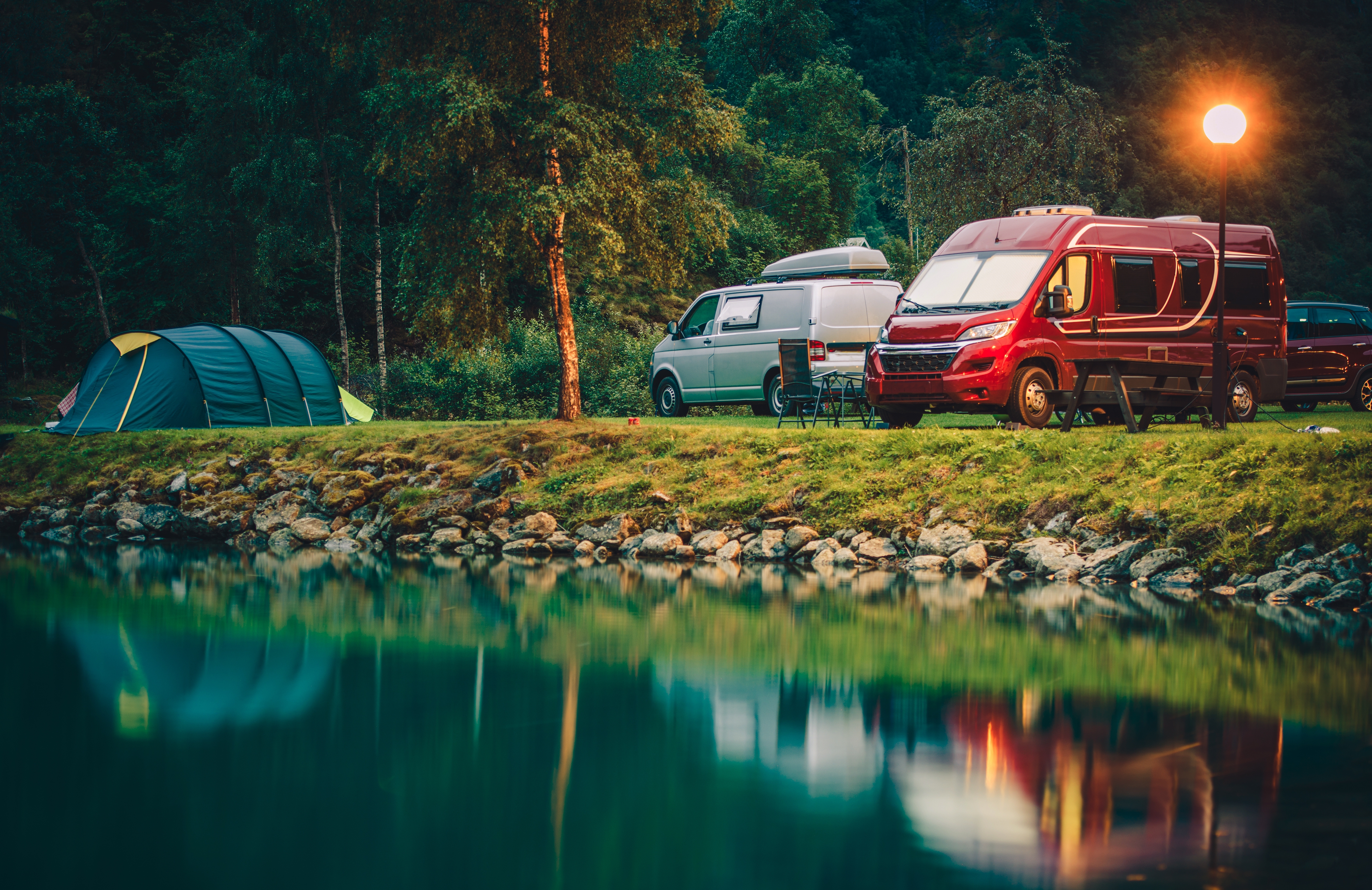 Other Things to Consider
Although your traveling home requires a simple way of living, there are still a lot of responsibilities. Research what type of insurance you'll need for your van and choose one with the most benefits. You don't want to be out in the middle of nowhere in a bind, only to be told that help is not on the way. Insurance policies can vary based on van size, type, and use, so stay equipped with sufficient coverage.
Then there's parking. If you've ever visited or lived in the city, then you know parking is a hassle. It's even more challenging when you're living in the vehicle you're trying to park. Become well-informed on the parking laws of every place you visit and be considerate of others. As long as you obey the laws of the land and don't cause trouble, you'll be fine. Remain diligent about where you're parking and seek out places that are home-on-wheels-friendly.
Enjoy the road ahead!