If you're a camper, you know too well that hot water is a luxury you can't afford to miss. Hot water is a go-to for taking much-needed showers, washing dishes, and other camping activities. With so many options to choose from on the market, how do you choose a portable shower? Let's help you figure out an outdoor camping shower that will meet your expectations!
What's a portable camping shower?
As the name suggests, a portable camping shower allows you to take showers whenever needed. They essentially work by using an engine and pump system, and once you set up the shower and engine with the tank and hose, you can connect the shower head to the hose and plug in the engine. Once the engine is running, water is pumped into your tank!
Here's your guide to buying a portable shower for your next camping trip.
Eccotemp has a range of portable showers that will exceed your expectations on your next camping trip. By purchasing one of our portable camping water heaters, you can access an unlimited supply of hot showers while camping. Pack up your shower hose in your camping shower bag, set it up with your tankless water heater, and voilà!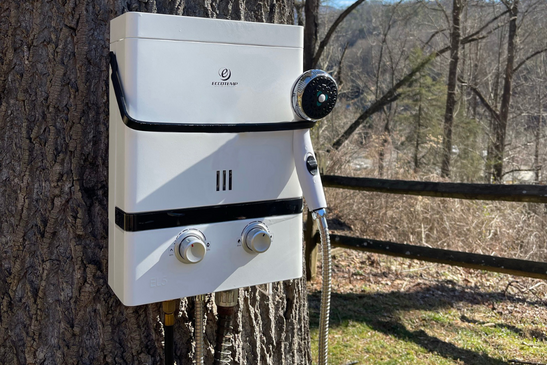 Eccotemp Luxe Portable Tankless Water Heater 1.5 GPM
In Summerville, SC, the Eccotemp Luxe Portable Tankless Water Heater 1.5 GPM (EL5) was meticulouslybuilt with quality, features, and pricing in mind. The Luxe EL5 features an All-Weather Rain Cap and Tri-Coat Pearl White Powder Coat Paint. This gives the Luxe EL5 a stunning appearance and a unique feel that are incomparable with anything else on the market. Our unique steel-designed carrying handle adds an element of durability and quality that no other competitor has. The Luxe EL5 comes with a clear & bright LED Digital Temperature, ON/OFF, and Pressure Indicator Light. The Advanced Pressure LED Indicator Light takes all the guesswork out of ensuring your water heater has enough water pressure to operate. For added features, this model also comes with the EccoFlo Pump & Strainer Bundle.
Eccotemp Luxe Portable Tankless Water Heater 1.85 GPM
The Eccotemp Luxe Portable Tankless Water Heater 1.85 GPM (EL7) features an Extreme All-Weather Rain Cap and a Tri-Coat Pearl White painted outer body, giving the EL7 a beautiful look and feel like no other. Inset Knobs increase your water heater's durability and longevity. The unique steel-designed Carrying Handle adds durability and quality, letting you transport your hot water anywhere.
The EL7 also comes with a bright, clear Digital Temperature Display with ON/OFF and Pressure Indicator Lights. Unlike any other water heater on the market, the Advanced Pressure LED Indicator Light eliminates the guesswork of determining if you have enough water pressure. The Digital ON/OFF LED Indicator powered by 4 x AA batteries lets you know when the water heater is on or off. The adjustable Water and Gas Knobs allow you to set the precise, ideal outgoing water temperature.
The EL7 is not only CSA certified for use in the United States and Canada, but it is also built for safety and ease. The Eccotemp EL7 has a built-in Anti-Flame Tilt Switch that switches off the water heater when tilted past 45 degrees, as well as multiple sensors that regulate temperature and avoid scalding. You can get more out of this model, which comes with the EccoFlo Pump & Strainer Bundle.
In the end, whichever model you choose really depends on your needs and budget, but you can rest assured that Eccotemp's portable camping showers will get the job done for you!